Ten Canoes
A parable of forbidden love from Australia's mythical past, with storytelling by Australian icon David Gulpilil (Crocodile Dundee and Rabbit-Proof Fence) and starring his son Jamie as the covetous youth Dayindi, Ten Canoes is a ground-breaking glimpse into aboriginal life centuries before European settlement.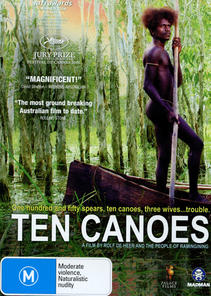 image from
791.43/TENC D727
Monkey Grip
Monkey Grip is a film about the complication of love, desire and freedom.It is about living with men and living without men.It is the story of Nora - in her early thirties - recently divorced and caring for her thirteen year-old daughter - a woman trying to live free of the compromises of conventional domesticity and dependence upon men, who, in spite of this, is drawn into a dangerously obsessive relationship with an attractive actor addicted to heroin.The film is set in the inner Melbourne suburbs of Carlton & Fitzroy, within a network of talented, reckless rock 'n' roll musicians, actors and writers - people refusing to live by the rules of consumerist culture and safe, conventional morality, exploring the possibilities and suffering the traumas of a new sexual openness.The story takes place from one summer to the next.It explores the changes Nora undergoes in attempting to gain control over her life.(From cover).
image from
791.43/MONK D726
We of the Never Never
At the turn of the century Australia was still a very young country, in a land as old as time. Few had ventured far from the growing cities and towns of the coast, into that vast heart of Australia - the great Outback.We of the Never Never, adapted from an Australian classic novel, tells of Jeannie (Angela Punch-McGregor) and Aeneas Gunn (Arthur Dignam), a man and his bride who trek to a place where wives are seldom seen, and even less accepted. Enduring hardships and battling against the sexist and racial prejudice of the Australian outback environment this extraordinary woman strives to win the friendship and respect of those about her.Directed by Igor Auzins (Coolangata Gold), this extraordinary story of a woman overcoming hardships and dangers forms the heart warming story of We of the Never Never. (From cover)
image from
791.43/WEOF D728
The Last Days of Chez Nous.
A film by Gillan Armstrong
Armstrong's acclaimed exploration of love, trust, betrayal and lust. Visually resplendent in a brand new high definition transfer with exclusive special features THE LAST DAYS OF CHEZ NOUS is a potent drama set around the life of a family facing change.
image from
791.43/LAST D729
Picnic at Hanging Rock
Based on the classic novel by Joan Lindsey, PICNIC AT HANGING ROCK, is both sublimely spooky and majestically beautiful. Boasting visually hypnotic photography by Oscar winner Russell Boyd, a haunting score by Bruce Smeaton and the timeless ethereal beauty of Anne Louise Lambert as Miranda, PICNIC AT HANGING ROCK helped revive the Australian film industry and established Director Peter Weir as a major international talent.
image from
791.43/PICN D722
Rabbit Proof Fence
Rabbit-Proof Fence

is a 2002

Australian

drama film

directed by

Phillip Noyce

based on the book

Follow the Rabbit-Proof Fence

by

Doris Pilkington Garimara

.

The film follows the Aboriginal girls as they walk for nine weeks along 1,500 miles (2,400 km) of the Australian rabbit-proof fence to return to their community at Jigalong, while being pursued by a white authority figure and an Aboriginal tracker.
image from
791.43/RABB D725