The following titles will be on display from Thursday 27th March until Thursday 3rd April. If you would like to put a hold on any of these books please ask the library staff for assistance.
Kitaj Prints: A Catalogue Raisonne
Image and text taken from
769.92/KITA
"
American-born artist R.B. Kitaj (1932-2007) was one of the most controversial artists of the second-half of the twentieth century. His distinctive, highly personal and often challenging works drew on many influences ranging from literature to politics and film."
Gold and the Incas: Lost Worlds of Peru
Image and text taken from
709.85/GOLD
"
Gold and the Incas
reveals the splendor of ancient pre-Hispanic cultures of Peru featuring art made of gold, silver, turquoise, shell, stone, textile, and ceramic. More than 200 objects are covered, showing the aesthetic depth, drama, and beauty of the famous Incan empire and its predecessors. As well as deities, lively depictions of animals, birds, and fish decorate the works."
Art and Ethics in a Material World
Image and text taken from
701.17/MCMA
"
In this book, McMahon argues that a reading of Kant's body of work in the light of a pragmatist theory of meaning and language (which arguably is a Kantian legacy) leads one to put community reception ahead of individual reception in the order of aesthetic relations. A core premise of the book is that neo-pragmatism draws attention to an otherwise overlooked aspect of Kant's "Critique of Aesthetic Judgement," and this is the conception of community which it sets forth."
Ron Mueck
Image and text taken from
730.92/MUEC
"
This book is published to accompany the major exhibition showing at the Fondation Cartier pour lart contemporain, Paris, from 16 April to 29 September 2013. Ron Mueck is creating three new works for the exhibition, which will be shown alongside with five other significant sculptures. This catalogue is the definitive reference book on Ron Muecks sculptures over twenty years of work. It features photos of his emblematic works, some of which have never been published before, and includes spectacular exhibition views of the new works presented at the Fondation Cartier. Analytical texts by Robert Storr and Justin Paton explore his work from the perspective of classical and modern art history, and invite readers to discover Ron Muecks intimate universe."
Photography: History and Theory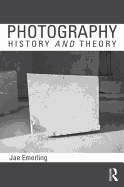 Image and text taken from
770.1/EMER
"
Photography: History and Theory introduces students to both the history of photography and critical theory. From its inception in the nineteenth century, photography has instigated a series of theoretical debates. In this new text, Jae Emerling therefore argues that the most insightful way to approach the histories of photography is to address simultaneously the key events of photographic history alongside the theoretical discourse that accompanied them."
Art of Wonder: A History of Seeing
Image and text taken from
701.1/SPAL
"
Destined to become an indispensable classic, this fresh and invigorating guide to appreciating the world's art encourages readers to trust their own instincts, tastes, eyes and experiences."
The Age of Collage: Contemporary Collage in Modern Art
Image taken from
702.812/AGEO