The following titles will be on display from 14 Sept - 21 Sept. If you would like to borrow any of them when they come off display see library staff. Otherwise click on the call number link to check the library catalogue.
Reality: Modern and Contemporary British Painting
759.2/COLL
Image and text taken from here
"In a world saturated with polychrome printed media and ephemeral digital images, painting has a particular power. It requires a direct experience of the work as a physical object; it offers an encounter with the scale of the canvas and the texture of the paint. And although it is one of our most archaic living cultural practices, it survives successfully alongside art forms such as film, photography and installation, which threatened to eclipse it in recent decades."
The Graphic Unconscious
769.973/PHIL
Image and text taken from here
"The Graphic Unconscious catalogue is a reference for the expanded field of printmaking featuring work by forty artists and collectives, working in a variety of media from traditional print to multi-disciplinary practices, featured in The Graphic Unconscious exhibition of the Philagrafika 2010 festival."
Rethinking Contemporary Art and Multicultural Education
707.1/RETH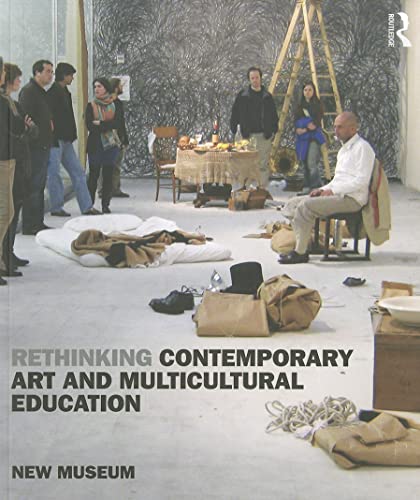 Image and text taken from here
"For over a decade, Contemporary Art and Multicultural Education has served as the guide to multicultural art education, connecting everyday experience, social critique, and creative expression with classroom learning. The much-anticipated Rethinking Contemporary Art and Multicultural Education continues to provide an accessible and practical tool for teachers, while offering new art, essays, and content to account for transitions and changes in both the fields of art and education."
A Matter of Memory: Photography as Object in the Digital Age
771.44/HOST
Image and text taken from here
"The majority of photographic images today are recorded and viewed digitally, rather than on film and paper. Amateurs, photojournalists and commercial photographers alike rarely produce material objects as the final step in their photographic process, making photographs in the form of physical objects increasingly scarce."
Sculpture in the Age of Doubt
735.23/MCEV
Image and text taken from here
"Framed in a lucid discussion of the intellectual issues surrounding the postmodern movement, the essays in this book re-examine the course of twentieth-century art through the work of twenty-five major sculptors. McEvilley masterfully traces the evolution of modern sculpture from the readymades of Marcel Duchamp to the anti-painting statements of the 1960s to the spiritualism and conceptualism of the 1980s and 1990s.
Diana Al-Hadid
730.92/ALHA
Image and text taken from here
"Syrian-born, but raised in the U.S., Diana Al-Hadid (born 1981) is known for her gravity-defying works built from layers of gypsum, steel, cardboard, wax and paint, that integrate references to Western European and Islamic mythology. Employing motifs such as pipe organs, labyrinths and spires, her works recall Northern Renaissance painting and Gothic cathedrals, yet appear in a deteriorated state reminiscent of ruins of long past civilizations. "Ancient ruins are culturally nostalgic objects that carry with them a distinct psychological effect," she has observed."
Rudolf Stingel
759.13/STIN
Image and text taken from here
"Celebrated for his explorations of the process of painting and the "idea" of painting, Rudolf Stingel (b. 1957) combines minimalist, conceptual, and performative practices to create unexpected spaces. This highly anticipated book, the premier critical survey of Stingel's career to date, accompanies the Italian-born artist's first solo museum exhibition in the United States."
51 Drawings: Bill Culbert
741.092/CULB
Image and text taken from here
"This book is a rare and unique publication by CORACLE PRESS. "51 drawings were made over the last thirty years using Parker 51 reservoir and cartridge fountain pens, mostly on pieces of A4 office paper. They were selected and edited by Bill Culbert and Simon Cutts from drawings of Pens & Corkscrews, Shades & Lamps, Chairs, Tables & Other Furniture, Bottles & Glasses, Instructions for Installations, Diagrams & Listings, in January 2013."
Lucian Freud: A Closer Look
741.092/FREU
Image and text taken from here
"This catalogue focuses on the artist's graphic production from the period after 1982 with works from the UBS Art Collection. Freud's (1922–2011) portraits—often of the same subjects he painted—manage to encompass his own psyche, the models' responses and our own reactions. "My work," he said, "is purely autobiographical. It is about myself and my surroundings." In an etching, the subject is scored into a metal plate covered with a wax mixture, which, after immersion in an acid bath, exposes the scorings, which are left as black lines in the finished print."