New Books 26 April - 3 May 2018
Genealogies of speculation : materialism and subjectivity since structuralism
In sharp contrast to dominant twentieth century philosophical approaches emphasizing subjectivity as a condition for all experience and knowledge, recent innovations in philosophy propose a 'speculative' breakthrough in comprehending our encounter with reality. The true picture is, however, more complex, with many debts accrued on both sides of this artificial division. Genealogies of Speculation looks to unlock these historically simplifying and politically stultifying deadlocks by explicitly identifying the continuities and debts between recent speculative thought and the twentieth century anti-foundationalist philosophy it commonly pitches itself against. Drawing attention to precursors in methodology, results, concepts, and applications of speculative philosophy in the very field of thought it loudly claims to leave behind, Genealogies of Speculation challenges the currently emerging paradigms of philosophical history, conceptual innovation, and the theoretical resources and routes available to researchers now and in the future.
The contingent object of contemporary art
In this book, Martha Buskirk addresses the interesting fact that since the early 1960s, almost anything can and has been called art. Among other practices, contemporary artists have employed mass-produced elements, impermanent materials, and appropriated imagery, have incorporated performance and video, and have created works through instructions carried out by others. Furthermore, works of art that lack traditional signs of authenticity or permanence have been embraced by institutions long devoted to the original and the permanent. Buskirk begins with questions of authorship raised by minimalists' use of industrial materials and methods, including competing claims of ownership and artistic authorship evident in conflicts over the right to fabricate artists' works. Examining recent examples of appropriation, she finds precedents in pop art and the early twentieth-century readymade and explores the intersection of contemporary artistic copying and the system of copyrights, trademarks, and brand names characteristic of other forms of commodity production. She also investigates the ways that connections between work and context have transformed art and institutional conventions, the impact of new materials on definitions of medium, the role of the document as both primary and secondary object, and the significance of conceptually oriented performance work for the intersection of photography and the human body in contemporary art. Buskirk explores how artists active in the 1980s and 1990s have recombined strategies of the art of the 1960s and 1970s. She also shows how the mechanisms through which art is presented shape not only readings of the work but the work itself. She uses her discussion of the readymade and conceptual art to explore broader issues of authorship, reproduction, context, and temporality.
Touching feeling : affect, pedagogy, performativity
A pioneer in queer theory and literary studies, Eve Kosofsky Sedgwick brings together for the first time in Touching Feeling her most powerful explorations of emotion and expression. In essays that show how her groundbreaking work in queer theory has developed into a deep interest in affect, Sedgwick offers what she calls "tools and techniques for nondualistic thought," in the process touching and transforming such theoretical discourses as psychoanalysis, speech-act theory, Western Buddhism, and the Foucauldian "hermeneutics of suspicion."
In prose sometimes somber, often high-spirited, and always accessible and moving, Touching Feeling interrogates—through virtuoso readings of works by Henry James, J. L. Austin, Judith Butler, the psychologist Silvan Tomkins and others—emotion in many forms. What links the work of teaching to the experience of illness? How can shame become an engine for queer politics, performance, and pleasure? Is sexuality more like an affect or a drive? Is paranoia the only realistic epistemology for modern intellectuals? Ultimately, Sedgwick's unfashionable commitment to the truth of happiness propels a book as open-hearted as it is intellectually daring.
Li Hui : selected works 2003-2013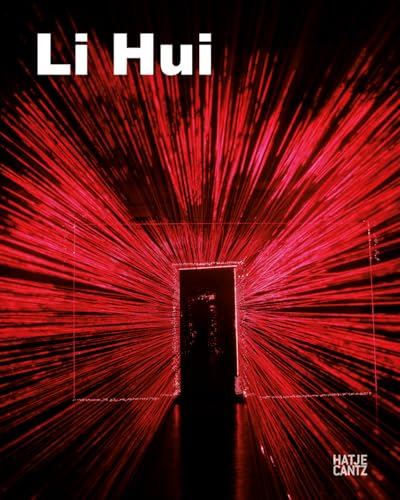 Li Hui (born 1977) constructs installations out of materials such as steel, wood, lasers and LED lights, proposing them as environments in which opposites collide. Thus prehistoric-looking skeletons are stored in vehicles; or red laser beams envelop the ruins of a car. This monograph examines Hui's recent works.
Giorgio Morandi : late paintings
This gorgeously produced monograph focuses on the period during which Giorgio Morandi (1890–1964) developed and refined his investigations of serial, reductive and permutational forms and compositions, a body of work that has had a profound influence on 20th-century contemporary art and painting. Included here are four of the ten iconic "yellow cloth paintings," a series featured prominently in the historic 1998 exhibition at the Peggy Guggenheim Collection in Venice, and numerous late paintings by the Italian master. Lavishly reproduced, these immersive plates draw attention to the idiosyncratic perspectival and color-driven decisions that give the work its abstract power.
In addition to an essay by art historian Laura Mattioli, founder of the Center for Italian Modern Art (CIMA), the book includes a fantastic array of contributions by contemporary artists, including John Baldessari, Lawrence Carroll, Vija Celmins, Mark Greenwold, Liu Ye, Alexi Worth and Zeng Fanzhi. Each of the artists offers a personal response to Morandi's work, and to the 2015 David Zwirner exhibition this book accompanies. Working in different mediums across many disciplines, this diverse list of contributors is a testament to the reach of Morandi's paintings and their influence on contemporary art.
The world new made : figurative painting in the twentieth century
For thousands of years pictorial representations have engaged humankind, yet in the twentieth century, with the arrival of abstraction and the accompanying liberation of painting from figuration and bourgeois tradition, figurative painting became fraught with difficulty. For some thirty years, from the early 1950s to the early 1980s, modern art and abstraction were almost synonymous, with figurative painters cast as "backward children," conservative throwbacks, and outdated survivors.
In The World New Made, critic Timothy Hyman argues that abstraction was just one of the means by which artists renewed pictorial language. Focusing on those painters who bucked tradition and opted for a new kind of figuration, Hyman presents them as a countermovement to the sometimes oppressive stylistic imperative that set in as Cubism became a movement. Around the world, artists such as Max Beckmann, Fernand Léger, Balthus, Paula Rego, Marc Chagall, Stanley Spencer, R. B. Kitaj, Philip Guston, Picasso, Matisse, Lucian Freud, and others found an idiom for human-centered painting. Together they offer a counterargument to Western formalism, but also a foundation for the figurative painters of the twenty-first century.
Daniel Kruger : on camp ceramics and other diversions : ceramics 1984-2005 = Keramik 1984-2005
Daniel Kruger (b. 1951), widely known as a jewellery artist, presents an overview of his ceramic works, featuring 230 pieces created over twenty years. Classic examples - tulip and lidded vases, delftware and dinner services - are familiar references, which Kruger decorates with images of footballers, homoerotic nudes or casts of twigs or bones. Worlds collide, revealing our preconceptions regarding conventions that provide a manipulated view of reality. There is less interest in the spectacular; Kruger's choice of images however, leads to unexpected, provocative combinations of form with decoration. In a continual process of artistic acquisition, new interpretation and appropriation, Kruger explores the interstice between historical archetypes and kitsch within European ceramic history.
Lynda Benglis
Since the 1960s, Lynda Benglis (born 1941) has been celebrated for the free, ecstatic forms she has poured, thrown and molded in ceramic, latex, polyurethane and bronze. In her new work, documented in this volume, she turns to handmade paper, which she wraps around a chicken wire armature, often painting the sand-toned surface in bright, metallic colors offset by strokes of deep, coal-based black. At other times she leaves the paper virtually bare. These works reflect the environment in which they were made, the "sere and windblown" landscape of Santa Fe, New Mexico, as Nancy Princenthal writes in her essay. "It is possible to see the bleached bones of the land--its mesas and arroyos; its scatterings of shed snakeskins and animal skeletons--in the new sculptures' combination of strength and delicacy." Simultaneously playful and visceral, these works enter into a lively dialogue with Benglis' previous explorations of materials and form.