The artist's guide to grant writing : how to find funds and write foolproof proposals for the visual, literary, and performing artist
808.0667/ROSE
image and text taken from here
The Artist's Guide to Grant Writing is designed to transform readers from starving artists fumbling to get by into working artists who confidently tap into all the resources at their disposal. Written in an engaging and down-to-earth tone, this comprehensive guide includes time-tested strategies, anecdotes from successful grant writers, and tips from grant officers and fundraising specialists. The book is targeted at both professional and aspiring writers, performers, and visual artists who need concrete information about how to write winning grant applications and fundraise creatively so that they can finance their artistic dreams.
Material feminisms
305.4201/ALAI
image and text taken from here
Harnessing the energy of provocative theories generated by recent understandings of the human body, the natural world, and the material world, Material Feminisms presents an entirely new way for feminists to conceive of the question of materiality. In lively and timely essays, an international group of feminist thinkers challenges the assumptions and norms that have previously defined studies about the body. These wide-ranging essays grapple with topics such as the material reality of race, the significance of sexual difference, the impact of disability experience, and the complex interaction between nature and culture in traumatic events such as Hurricane Katrina. By insisting on the importance of materiality, this volume breaks new ground in philosophy, feminist theory, cultural studies, science studies, and other fields where the body and nature collide.
Art/work : --everything you need to know (and do) as you pursue your art career
702.3/BHAN
image and text taken from here
The definitive, must-have guide to pursuing an art career—the fully revised and updated edition of Art/Work, now in its fourteenth printing, shares the tools artists of all levels need to make it in this highly competitive field.
Originally published in 2009, Art/Work was the first practical guide to address how artists can navigate the crucial business and legal aspects of a fine art career. But the rules have changed since then, due to the proliferation of social media, increasing sophistication of online platforms, and ever more affordable digital technology. Artists have never had to work so hard to distinguish themselves—including by making savvy decisions and forging their own paths. Now Heather Bhandari, with over fifteen years of experience as a director of the popular Chelsea gallery Mixed Greens, and Jonathan Melber, a former arts/entertainment lawyer and director of an art e-commerce startup, advise a new generation of artists on how to make it in the art world.
In this revised and updated edition, Bhandari and Melber show artists how to tackle a host of new challenges. How do you diversify income streams to sustain a healthy art practice? How can you find an alternative to the gallery system? How do you review a license agreement? What are digital marketing best practices? Also included are new quotes from over thirty arts professionals, updated commission legal templates, organizational tips, tax information, and advice for artists who don't make objects. An important resource for gallerists, dealers, art consultants, artist-oriented organizations, and artists alike, Art/Work is the resource that all creative entrepreneurs in the art world turn to for advice.
Surrealist art and writing, 1919-1939 : the gold of time
709.04063/SPEC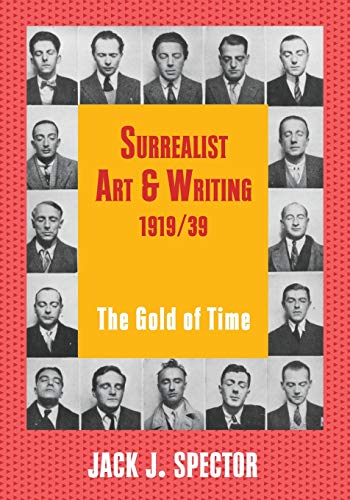 image and text taken from here
Surrealist Art and Writing, 1919-1939 offers a fresh analysis of Surrealism--of the artists Dalí, Ernst, Masson and Tanguy and the writing of Surrealism's leaders--André Breton, Aragon and Eluard. Spector uses a multidisciplinary approach to examine how the ideas and images of this avant-garde movement grew up in anipathy to middle class values. He situates the concrete products of Surrealist art and writing in their historical context without losing sight of larger theoretical and ideological issues involving psychoanalysis, Marxism and philosophy.
Beyond objecthood : the exhibition as a critical form since 1968
709.05/VOOR
image and text taken from here
The rise of the exhibition as critical form and artistic medium, from Robert Smithson's antimodernist non-sites in 1968 to today's institutional gravitation toward the participatory. In 1968, Robert Smithson reacted to Michael Fried's influential essay "Art and Objecthood" with a series of works called non-sites. While Fried described the spectator's connection with a work of art as a momentary visual engagement, Smithson's non-sites asked spectators to do something more: to take time looking, walking, seeing, reading, and thinking about the combination of objects, images, and texts installed in a gallery. In Beyond Objecthood, James Voorhies traces a genealogy of spectatorship through the rise of the exhibition as a critical form-and artistic medium. Artists like Smithson, Group Material, and Michael Asher sought to reconfigure and expand the exhibition and the museum into something more active, open, and democratic, by inviting spectators into new and unexpected encounters with works of art and institutions. This practice was sharply critical of the ingrained characteristics long associated with art institutions and conventional exhibition-making; and yet, Voorhies finds, over time the critique has been diluted by efforts of the very institutions that now gravitate to the "participatory." Beyond Objecthood focuses on innovative figures, artworks, and institutions that pioneered the exhibition as a critical form, tracing its evolution through the activities of curator Harald Szeemann, relational art, and New Institutionalism. Voorhies examines recent artistic and curatorial work by Liam Gillick, Thomas Hirschhorn, Carsten Hoeller, Maria Lind, Apolonija Sustersic, and others, at such institutions as Documenta, e-flux, Manifesta, and Office for Contemporary Art Norway, and he considers the continued potential of the exhibition as a critical form in a time when the differences between art and entertainment increasingly blur.
Crafting a continuum : rethinking contemporary craft
745.5/HELD
image and text taken from here
The Arizona State University Art Museum is renowned for its extensive and notable craft collection and features international acquisitions in wood, ceramic, and fiber. This book, edited by the museum's curators, uses the ASU collection to explore the idea of craft within a critical context, as both idea and action. Crafting a Continuum begins with the genesis of the craft collection and relates it to the historical development of craft in the United States and abroad, exploring both anthropological and cultural concepts of the field.
Peter Held and Heather Sealy Lineberry present photographs of the museum's objects alongside essays by distinguished scholars to illuminate historical and contemporary trends. Sidebars and essays by writers in the craft field offer a broad overview of the future of contemporary craft.
Peter Hennessey : making it real
730.92/HENN
image and text taken from here
This fully illustrated hardback publication includes contributions from Andrew Frost, Stuart Harrison, Allison Holland and curator Samantha Littley.
Bruce nauman : Disappearing acts
709.2/NAUM
image and text taken from here
At 76 years old, Bruce Nauman is widely acknowledged as a central figure in contemporary art whose stringent questioning of values such as good and bad remains urgent today. Throughout his 50-year career, he has explored how mutable experiences of time, space, sound, movement and language provide an insecure foundation for our understanding of our place in the world.
This richly illustrated catalog offers a comprehensive view of Nauman's work in all mediums, spanning drawings across the decades; early fiberglass sculptures; sound environments; architecturally scaled, participatory constructions; rhythmically blinking neons; and the most recent 3D video that harks back to one of his earliest performances. A wide range of authors―curators, artists and historians of art, architecture and film―focus on topics that have been largely neglected, such as the architectural models that posit real or imaginary sites as models for ethical inquiry and mechanisms of control. An introductory essay explores Nauman's many acts of disappearance, withdrawal and deflection as central formal and intellectual concerns. The 18 other contributions discuss individual objects or themes that persist throughout the artist's career, including the first extensive essay on Nauman as a photographer and the first detailed treatment on the role of color in his work. A narrative exhibition history traces his reception, and features a number of rare or previously unpublished images.